Course details
【Seasonal cuisine dishes December】 Seasonal seats 6000 yen (10 items in all)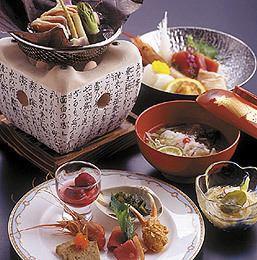 By using a coupon6480 yen
It is tax-included amount.(In case of private room use, 10% service fee will be charged separately)
Available days for reservation

Monday - Sunday - Public holidays - Holidays
The real pleasure enjoying the seasons.Boasting dishes prepared with seasonal ingredients in conscience and delicacy unique to water virtues.Please spend a moment of attentive delivery.Menu changes every month.(Please ask for details)
Course menu
【Four seasons meeting fee 6480 yen】
We cook the seasonal ingredients carefully with skill and heartwarming unique to water virtue.
Please use it in various scenes such as Keio, Lawyers and various banquets.
※ For more than 10 people, free pick up is available.
<Cooking content>
【First appeared】 How much is it like crab meat tofu
【Appetizer】 Sakura Friend Sushi Sea Cucumber Ponzu Beef Yawata Roll Wrapped Dried Spice Lotus Gion Snake Basket Salmon Winding
【Bowl Object】 Chawanmushi
【Sashimi】 Bamboo shrimp sweet lobster yuba Unzen
【Fried】 Fried flavor fried with bone
【One pot】 Chicken drinking cab
【Baked goods】 Grilled miso mayonnaise on scallops
【Vinegared things】 Eelance mountain climbing
【Meal】 Cochin salt rice cooker soup pickles pickles
【Dessert】 Yuzu Sorbet
【All you can drink】
There is also the best all-you-can-drink for banquet.
<With all you can drink>
7000 yen 8000 yen 10000 yen (including consumption tax and service charge)
※ The content of some dishes may change.
Coupons that can be used with this course
2018/12/07 update